Educated at Valand Academy of Fine Arts 1979-84, majoring in painting and graphics
.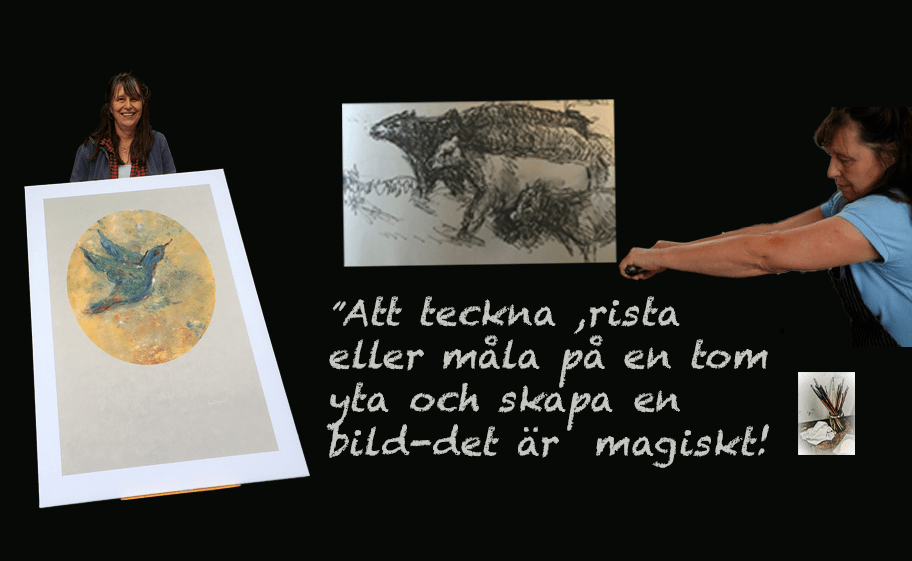 "To draw , paint or carve on an empty surfice creating an image-that is magic"!
"I was 14 years old and had a strong desire to learn to draw for real.The start of my education was a Hermod correspondence course in drawing.That`s how it has continued.There is always something new to see,discover and try to portay.Curiosity drives me and the desire to see an image emerge."


"Jag var 14 år och hade en stark önskan att lära mig teckna på riktigt.Starten på min utbildning blev en Hermods brevkurs i teckning.Så har det fortsatt.Det finns hela tiden nytt att se, upptäcka och försöka gestalta.Nyfikenheten driver mig och lusten att se en bild växa fram."

Alternates between drawing,studying what I see and making free images that become more like poetry,where color is the main means of expressen.Inspiration comes from everything you see and experiance,but also from literature and music.
Of course I carry whith me and get inspired of the old masters as for exempel Rembrandt,Vincent van Gogh,Picasso,Chagal and many,many more.Learning,but work in my own way.
My images is free to interpret.
Växlar mellan att teckna av, studera vad jag ser och att göra fria bilder som mer blir som poesi,där färgen är främsta uttrycksmedlet.Inspirationen kommer från allt man ser och upplever,men också från litteratur och musik.
Så klart bär jag med mig och blir inspirerad av de gamla mästarna som exempelvis Rembrandt,Vincent van Gogh,Picasso och många,många fler.
Mina bilder är fria att tolka.

I alternate between drawing,studying what I see and making free images that become more like poetry,where color is the main means of expressen.Inspiration comes from everything you see and experience,but also from litteraturs and music.
Of course I carry with me and am inspired of the old masters such as Rembrandt,Vincent van Gogh,Picasso and many,many more.
My image is free to interpret for everyone.Hope they will grow in association.


Åsa Elisa D.får här Olle Skagerfors-stipendiet av Mona Skagerfors på Bror Hjorts Hus i Uppsala 2006.

utställningar i urval:

Galleri H,Hornsgatan, Stockholm 1984.Nordanåhallen,Skellefteå 1985,Kulturhuset,Kungsbacka 1986.Tidaholms museum 1987,Galleri Kavaletten,Uppsala 1988,Nolhaga slott,Alingsås 1990,Konstens Hus Varberg 1992,Galleri Lucifer,Skövde 1997,Borås konstmuseum 1999,Glasverandan Fristad 2001,Galleri Porten Lidköping 2007,Jubileumsutställning Grafik i Väst 2012,Galleri Björken,Sunne 2015,Elite Plaza 2017.

Stipendier i urval:Eric Ericssons stiftelses stipendiefond 1984,Olle Skagerfors stipendiet 2006.

"Rastplatsen" / Akvarell
---